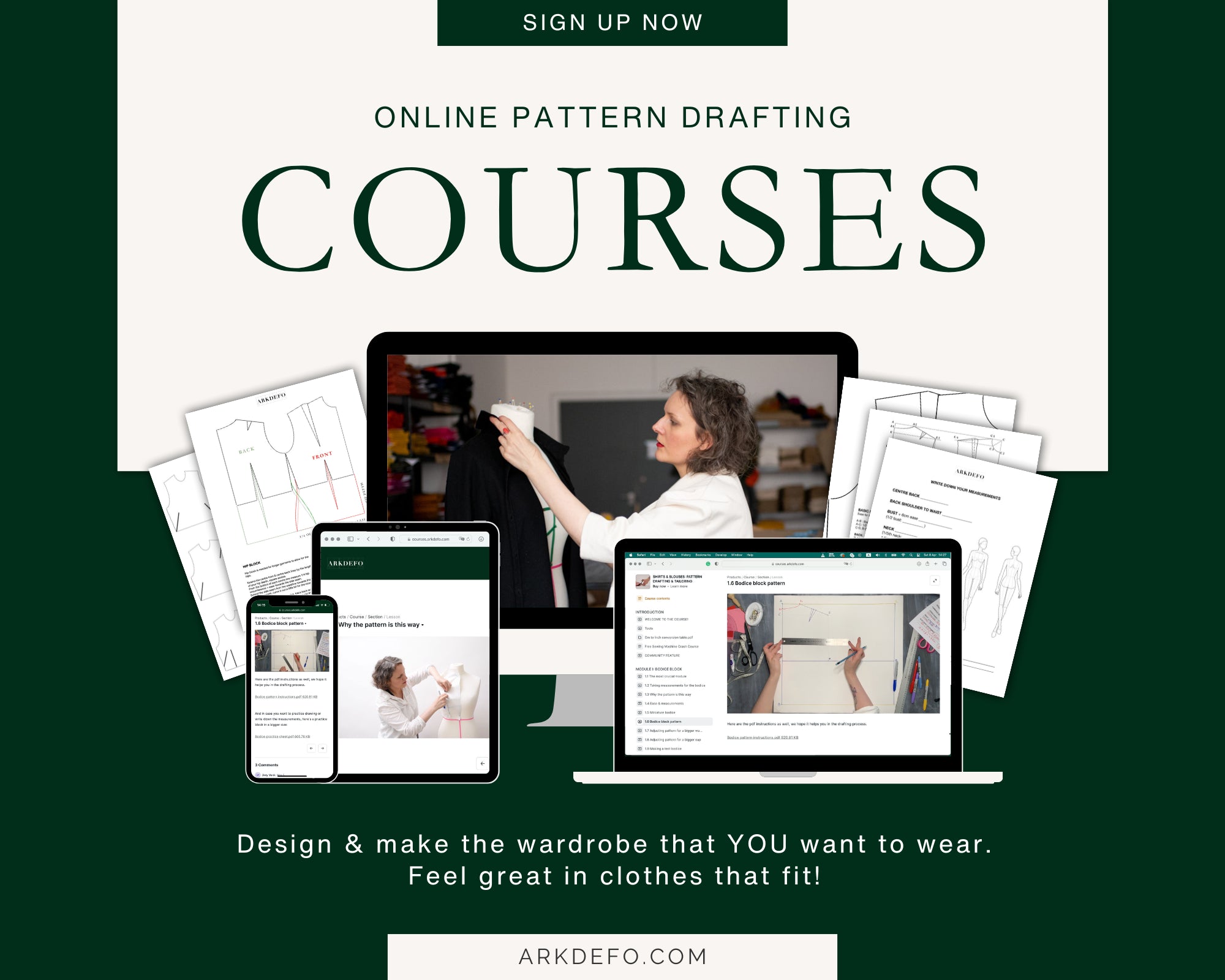 MAKE CLOTHES IN YOUR SIZE. ALWAYS
Forget ready sewing patterns
BRING YOUR IDEAS TO LIFE
24/7/365 LIFE TIME ACCESS
Learn when & where it suits YOU. Unlimited access to all lessons.
HD VIDEO LESSONS
Pre-recorded video tutorials. No ads, no distractions.
Q&A ON DEMAND
Direct access to the teacher if you need extra help.
WHAT OUR STUDENTS SAY
Anna
I've purchased the pack for beginners from Arkdefo. After countless unsuccessful tries, different easy patterns and tutorials, I almost gave up on my dream of creating my own clothes. However, I've decided to give it another try and got this course. It was cheaper to buy the whole pack rather than individual modules. It may look a bit pricey, but it's worth every penny and so much more. Not only did I make my own garment from scratch, but more importantly, this course gave me hope that I could create my own clothes. You can tell that Elizaveta got so much experience, and she's sharing it with her students and this is priceless. There were so many little tips I've already picked up on. The structure of those lessons is perfect, it's all divided into short videos, and whenever I need to go through some of the lessons, I watch the video that I need. It's so easy to navigate. Also, the important part for me was the chance to ask questions. Elizaveta is very responsive and would always get back to me quickly. I appreciate that I didn't have to buy anything extra and could just use what I already had. It's a fantastic tutorial that taught me how to sew and gave me hope that I can actually do it. One of the best investments I've made. I would highly recommend it. I don't have the frustration anymore when I sew, and I can't wait to start on my next project.
ELLA
I LOVE arkdefo!! It's so much simpler to make my own high-quality t-shirts than I could have imagined and now, even with just the beginner courses I can make shirts and blouses and pants and hoodies and sweaters that actually fit me and fit how I want them to and I don't have to guess and hope some brand or another makes the proverbial/maybe literal one specific piece of clothing that fits me well that i found 10 years ago again. The video tutorials are concise, clear, and contain basically no filler which is important for someone like me with ADHD who inherently struggles to watch videos anyway. Making sure they are full of useful information makes it way easier for to pay attention the whole time. HIGHLY recommend for anyone curious about making their own clothes!!
ALISON
I've just finished module one in the advanced patterns drafting course for shirts and blouses. Already I have drafted a block which is a better fit that just about every pattern I've purchased. I'm so excited for the modules to come. The amount of info you get is worth so much and there's lots of modules to come. What a fabulous resource and so nice to see more advanced teaching available. Before I knew about the courses I'd found Arkdefo via Insta and ordered some red dry oilcloth which is beautify quality and such a good price. Can't recommend Arkdefo highly enough, I'm a fan
MEGAN
My experience taking Arkdefo's "Build Your Capsule Wardrobe" class has been amazing. I am a beginner sewer and the concepts taught in this class really help you understand how clothing is made and how you to apply those concepts to your own body. My friends and family have been really impressed with what I've made in a small amount of time. Additionally, you get direct access to the owner/teacher who responds so quickly to questions. Would absolutely recommend!
HOW DO I SIGN UP?
Right after purchase you'll receive a custom link to access the course. Please follow it and it will take you our course platform. Create an account there and you are ready to go, the course is available immediately. If something doesn't work, please get in touch and we'll add you to the course manually.
I HAVE NOT STANDARD BODY SHAPE, WILL PATTERNS WORK FOR ME?
All courses are based on working with individual measurements (no matter what they are) and making patterns from scratch based on them. We don't supply any ready patterns: we teach how to make them. If works for absolutely any body shape!
I'M NOT IN THE UK, CAN I TAKE THE COURSE?
Absolutely! All courses consist of pre-recorded video tutorials which means you can access them at any time from anywhere in the world :)